P365 Day 24, a photo by PattiP88 on Flickr.
This lovely rose passed so quickly from full bloom to this. I've taken a photo of this rose from it's budding stage. They pass all too quickly.
I'm linking up with Rebecca Cooper's
Simple Things Sunday
just for fun.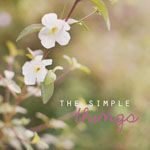 There are always some really lovely photographs linked there. Check them out.
And, here's another link, this time to a lovely story from a fellow
Simply Music
teacher. I love the generosity and kindness shown by many people in this story:
Khamis and Alam
My plan for the day:
teach for a few hours
work on my LOAD project to catch up
celebrate how much I've gotten done with LOAD this month
enjoy our lovely garden in the evening light
Have a lovely, simple Sunday!